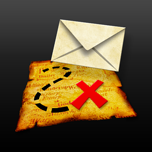 - Virtual Geocaching
Hide virtual messages outdoors
Send friends on a Pokémon Go like treasure hunt to view your messages. Hide single messages or link many together. Create virtual geocaching, scavenger hunts and treasure hunts. As quick and easy as texting!
Family activity
Get kids out the door. Use technology as bridge between screen time and fun, healthy activities outdoors. Hide exciting treasures close to home.
Education tool
Allow students to experience nature and learn about geography, mapping skills and teamwork while having great fun. Hide challenging assignments.
Fun with friends
Flirt! Hide a love note. Stash a fun photo outside your friend's home. Create a party quiz.